I have been very touched over the past week by sad images of animals. Images are burned in my mind from the Qld floods of horses swimming desperately in a futile effort to find high ground, other horses resting their heads on the roofs of houses, the confused and soaked rabbit at Halls Gap, make do animal shelters, wallabies stranded and rescued and the Brazilian lady forced to let go of her beloved dog to save her own life. They are all so helpless in these times.
I seem to be encountering touching animal stories everywhere. In October our pool contractor Rob died in a tragic acident. We heard how his beloved bull terrier and mate 'Chuck' sat by the gate for three days waiting desperately for Rob to come home from work. Then in December I had to pull over and bundle 2 adorable puppies into my car before they got run over. They were oblivious to the constant traffic at a busy intersection and were certain to be run over sooner or later. I had to knock on doors and eventually took the pups to the local vet. They were collarless but fortunately they were microchipped. I left them there and the vet called later to say the owner had been found. Relief!

The puppies wouldn't stay still, even for a photo.
 Finally, today a more unpleasant animal encounter. First I am coming across quite a few redbacks in my garden travels- redbacks don't know that there are no redbacks in Japan, France, England etc. Then I get out of my car and am walking to check out a new charity store when an English lady and son come towards me pointing behind me. They are talking and pointing to a man with a broom in hand. It turns out that I had just walked past a brown snake- I must have been less than a metre away- I could have easily stepped on it. The man picked up the snake (at last 1.5m long & juvenile I think) and then stands for 15 mins trapping it on the ground with a broom. The lady says we have only been in Australia for two years and never seen a snake. 'Are they poisonous?' she asks. I say everything is poisonous in Australia. They must avoid telling migrants about our deadliest. The Mum & boy are taking photos to show Dad - I am staying far away- hence no real photos here. Ignorance is bliss.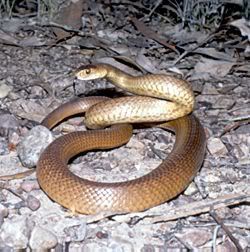 Even looking at this gives me shivers. The real thing was a bit smaller and lighter.
I hate snakes, I stay outside the reptile enclosure at the zoo, normally I can't even look at them in books or on TV. Today though I almost feel sorry for the snake (at a safe distance) - I can see it would rather sneak away to be somewhere else. Instead the man eventually squashes it to death with the broom. I walk back to my car at a considerable distance, not convinced it is really dead.
Of course from then on I jump everytime I see a stick and recall all the horrible stories my 'country bred' husband has told me of snakes getting inside cars.